CATS is a mixed doubles league that offers fun both on and off the courts with year-round tennis and social events.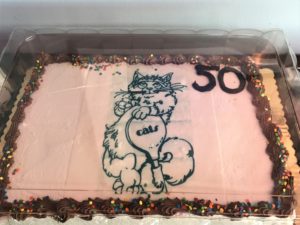 CATS CELEBRATES 50 YEARS!
CATS members play indoors at Lakeshore Sport & Fitness on Wednesday nights from 9-11 PM in Fall, Winter/Spring and Summer Sessions. Teams are divided into three levels so players of most skill levels can find a fit. Social events include tennis round-robins and outings to professional sports events.
EVENTS
NEWS
Fall session begins September 6!
Election of CATS Officers: If you've ever thought about helping to run CATS, this is the opportunity you've been waiting for. According to CATS' bylaws, there should be an election of officers every other year. With the pandemic in 2021, all the officers at the time agreed to continue in their offices and we did not hold an election. Now, as CATS begins fiscal year 2023-24, we want to know if anyone is interested in running for president, vice-president, treasurer, or secretary. Read more in the News section.
Members-only section: This area of the website includes the member directory, division schedules, team lists and sub lists for each division, the prize list and more. Click the link in the menu above and sign up to get access. If you forget your password, click here for instructions on how to reset it.
FUN WITH CATS NEWSLETTER
Fun With CATS is a collaboration between the Social Committee and the Director of Communications. It was published occasionally until CATS was able to resume playing tennis as a way of keeping in touch with each other and remembering how much fun we have on and off the court. Issues looked at photos of past events, shared news about members or information about tennis instruction—anything we can think of that's fun and relevant to CATS! Issues generally have a main article followed by news tidbits. Issues to date are below.
FWC #1 An array of online tennis instruction at a bargain price (offer now over).
FWC #2 Denied traveling to exotic places, Peggy Harrison discovers photo opportunities close to home.
FWC #3 Revisit — or attend for the first time — CATS' 50th Birthday party last year.
FWC #4 See the progression of Karen Hirsch's online Image of the Day art project through the early days of the shutdown.
FWC#5 Becky Corrigan explains how she and her students adapted to remote learning.
FWC #6 A look at the amazing life of CATS' oldest playing member, Dave Herd.