CATS is a coed doubles league that offers fun both on and off the courts with year-round tennis and social events.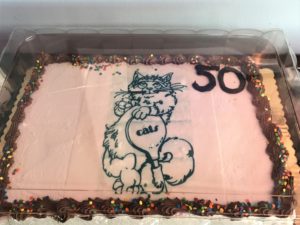 CATS CELEBRATES 50 YEARS!
CATS members play indoors at Lakeshore Sport & Fitness on Wednesday nights from 9-11 PM in Fall, Winter/Spring and Summer Sessions. Teams are divided into C, B, A and Open Levels so players of most skill levels can find a fit. Social events include tennis round-robins and outings to professional sports events.
UPCOMING EVENTS
NEWS

Time to Renew Your CATS Membership: All current memberships expire on August 31. If you renew by then, you can save $5, but after that, you will have to pay the full $40. We expect to have the long-awaited online renewal process in place by August 1, but the paper form is available now.
Current CATS Officers to be Retained for Another Term: As of the July 15 deadline, no one signed up to run for any of the four CATS' officer positions of president, vice-president, treasurer or secretary, so there be no formal election. The current officers — Bill Himmelmann, President, Michael Fox, Vice-President, Carolyn Popp, Treasurer, and Joyce Weber, Secretary — will continue their current terms of office, which run through August 31. They will begin new two-year terms on September 1, the beginning of CATS' new fiscal year.
Name Change: Chicago Advertising Tennis Society will be known as Chicago Area Tennis Society as of September 1, 2019, the beginning of the next CATS year. See more.
Members-only section: This area of the website includes the member directory, division schedules, team lists and sub lists for each division, the prize list and more. Click the link in the menu above and sign up to get access. If you forget your password, click here for instructions on how to reset it.
CATS Accepts Payments with Zelle: Using this free service, you can make payments from the web or your mobile device in seconds. See how.