CATS is a mixed doubles league that offers fun both on and off the courts with year-round tennis and social events.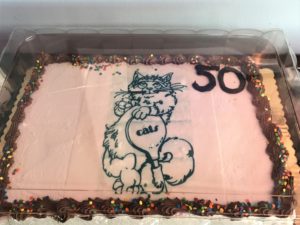 CATS CELEBRATES 50 YEARS!
CATS members play indoors at Lakeshore Sport & Fitness on Wednesday nights from 9-11 PM in Fall, Winter/Spring and Summer Sessions. Teams are divided into C, B, A and Open Levels so players of most skill levels can find a fit. Social events include tennis round-robins and outings to professional sports events.
UPCOMING EVENTS
NEWS
Congratulations to the winning teams in the Fall 2019 Session: Teams Buklis, Askew, Formeister and Vahey. The Winter/Spring 2020 Session begins February 5.
Name Change: As of September 1, 2019, Chicago Advertising Tennis Society will become Chicago Area Tennis Society. See more.
Members-only section: This area of the website includes the member directory, division schedules, team lists and sub lists for each division, the prize list and more. Click the link in the menu above and sign up to get access. If you forget your password, click here for instructions on how to reset it.
CATS Accepts Payments with Zelle: Using this free service, you can make payments from the web or your mobile device in seconds. See how.